If you aren't seeing an answer to a question you have, please let us know about it by contacting our support team with a ticket.
Important things to note:
Some of the items discussed may involve modules you are currently not using or don't have access to depending on your user permissions. For more information contact our support team.
Frequently Asked Questions:
Q: I have finished making my shift profiles and staffing templates but when I create the schedule, the employees aren't filling into the shifts. What am I missing?
A: The most common mistake we see occurs when the start time and duration of the shift profile and staffing templates don't match up exactly. Double checking that the times and days line up properly usually resolves this issue.
If you aren't sure how to check this, you can begin by navigating to ePro Scheduler > Scheduling Admin > Manage Shifts. Next click on the blue 'Staffing Templates' link.
This will open a window view showing the staffing templates and shifts in one easy to check location allowing you to confirm the start times and duration are accurate.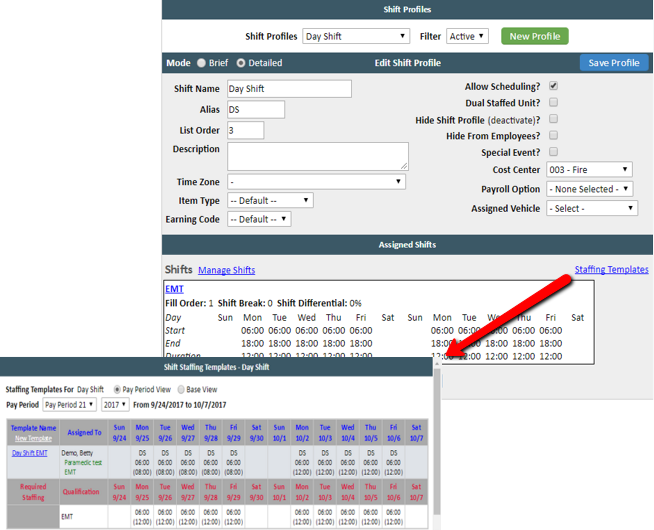 Q: Is there an ePro Scheduler phone app for my iOS or Android device?
A: At this time there is no stand alone phone app for the ePro system, instead what we offer are phone optimized tools and menus.
These tools size appropriately for phone screens and are optimized to function intuitively on smartphones. This means no more zooming in or horizontal scrolling to do what you need to do.
When you log into ePro on a smartphone, the new phone optimized functionality will automatically load. If you need to get to functions not available in the phone interface, simply click the "Launch Desktop" option at the bottom of the navigation menu. Once on the desktop version, you can get back to the phone version by clicking the "Launch Mobile" link at the button of the main ePro menu.
Though these tools should be very familiar to current users, the following document may be helpful: ePro Plus Mobile Document
Q: I would like to list a student rider on shifts, but I don't need them added to the system as an employee. How do I make this happen?
A: The first thing you will need to do is add the students to your system. You will begin by navigating to Employees > Students. Here you will select the 'Add Student Record' menu option.
Once you have finished adding the student, you can then assign the rider to a shift by selecting the blue 'Rider' link in the schedule item.
If you aren't seeing this link, that means that either the item doesn't have an employee assigned, or you may need a configuration setting on the back end updated. Our support team will be happy to assist with enabling this for you.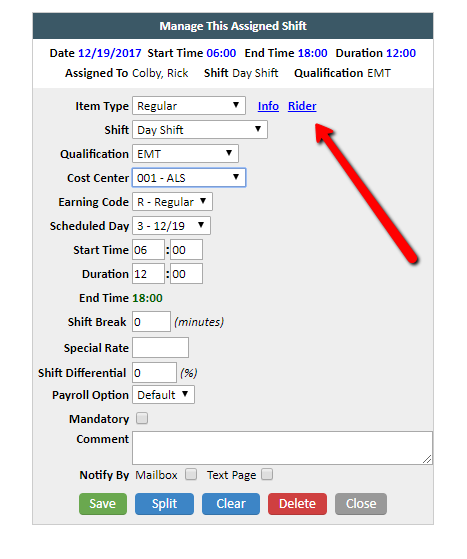 Q: I would like to export employee profile data, but just specific fields. Is there a customizable report for this?
A: Yes! You can create custom employee reports that pull data directly from the employee profiles. To begin you will navigate to Employees > Configure Employees > Dynamic Employee Summary Setup.
Here you will enter the name of your new report then click the green 'Create' button. You will then have the ability to select the fields you want from the drop down menu.
When you are ready to try out your new report you will navigate to Employees > Employee Reports > Employee Summary Reports. Here you will select your newly made report and click the 'Query' button.
Q: What is the difference between Legacy and Non-Legacy tools?
A: ePro Scheduler has been around since 2001 and this means we have done our fair share of updating / upgrading the software. Anytime you see a tool listed as Legacy, this means you are looking at the original version of the tool. If you are using a Legacy tool and would like information on upgrading to the most recent version, please contact our support department for assistance making this change.