The Configure Messaging Defaults tool provides the ability to manage various default settings such as where to send scheduling notifications and payroll files.


Important things to note:
At this time the scheduler email address fields are limited to a single email address per field.
Getting Started:
To manage or update the Messaging Defaults you will first navigate to Message Center > Configure Msg Center > Configure Message Defaults.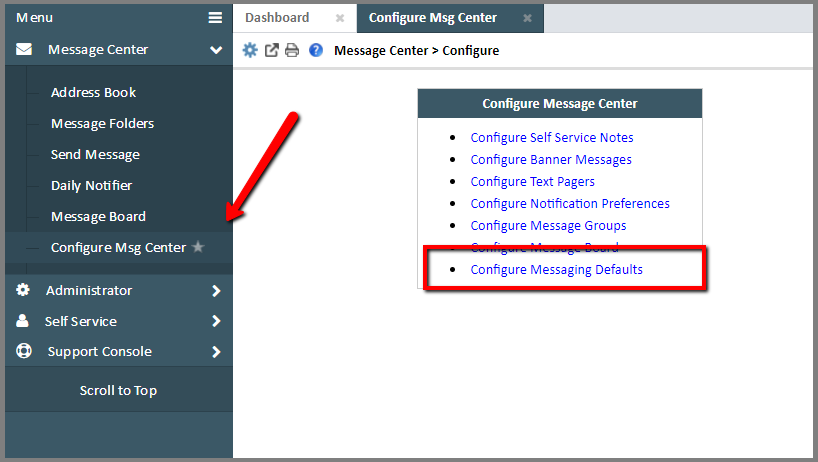 This will take you to the Messaging Deafults page where you can begin updating the settings.
The '

Send Messages to Supervisors

' box sends scheduling notifications based on work groups.
The '

Scheduler Email Address

' and '

Scheduler EMail Address 2

' fields sends scheduling notifications based on the email addresses listed.
The '

Payroll EMail Address

' field sends the payroll file out automatically at the time of closeout to the email address listed.
The '

Message List Default Day Span

' field allows you to set a span of days for message folder queries.
The '

Brief Text Paging

' radio buttons allows you define the size of the text messages sent out to users.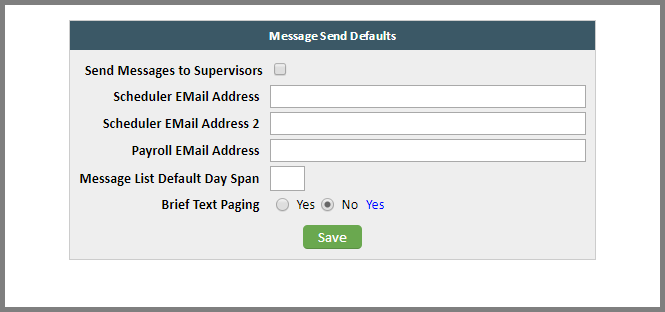 Scheduling Notifications:
Depending on user permissions, users will be able to take actions in their Self Service that will require a scheduler or supervisor be notified for further action such as approval or for keeping record. The following actions will send a notification out based on the Messaging Default settings.
Employee profile updates
Employee qualification updates
Employee certification updates
Self-service timecard approval
Self-service pickup request
Self-service employee entered time request
Self-service timeoff request
Self-service timeoff removal request
Self-service shift swap request
Self-service send message to scheduler
Management side shift swap request added
If you need scheduling notifications sent to only a couple individuals, you will add the specific emails to the Scheduler EMail Address fields. Once you have updated the field(s) you will click the green 'Save button.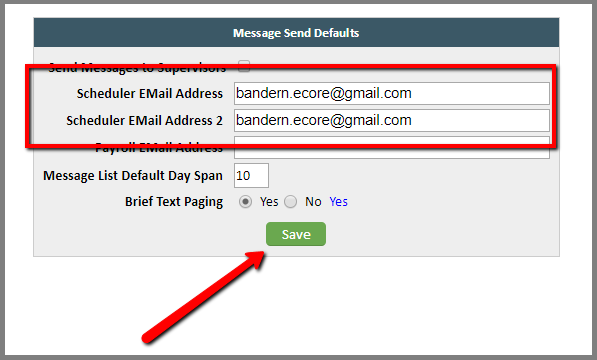 If you need the scheduling notifications sent out to supervisors based on work groups, you will choose the Send Messages to Supervisors option instead of adding scheduler emails.
Once you check this box and click the green 'Save' button, notifications will be sent out based on the work group set up.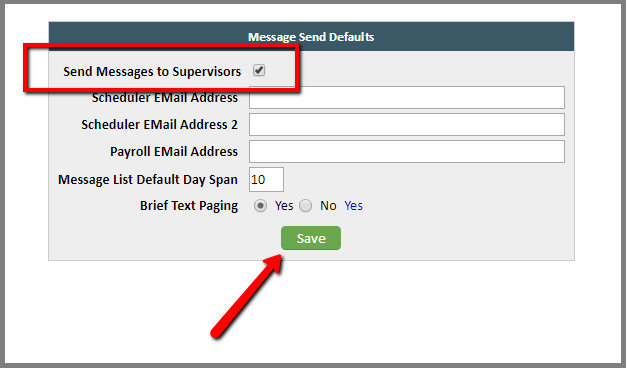 Payroll File Default Email:
If you are using our Timekeeping and Payroll tools to do a weekly or monthly payroll closeout, then you may find it helpful to have the file automatically emailed to a specific person.
To set this up, you will add the appropriate email to the Payroll EMail Address field then click the green 'Save' button.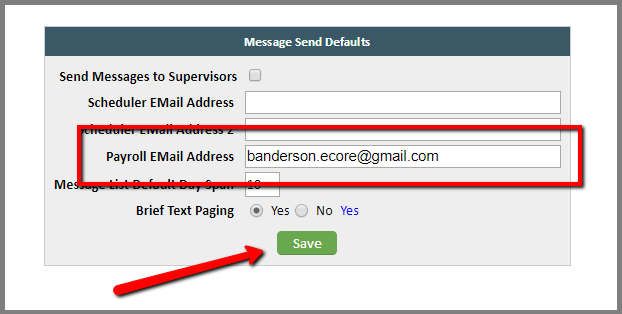 Message Folder Default Date Span:
To set up a default number of days that Message Folders will span, you will enter the number amount in the 'Message List Default Day Span' field and then click the green 'Save' button.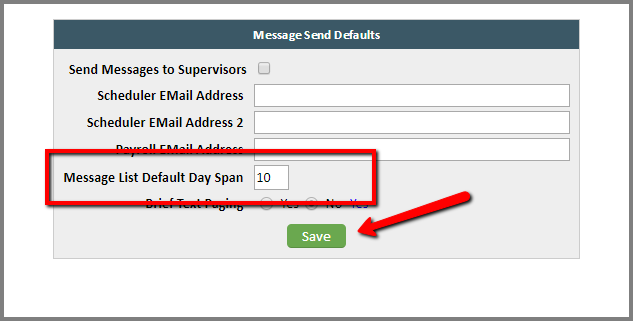 Here you can see our example amount was 10 days, listing the date span of 10 days on the Saved Messages folder when we navigate to it.

Text Message Length Default:
Some carriers put restrictions on the number of characters a text message can be and will split messages into several separate messages. To avoid this, you will choose the brief option and then click the green 'Save' button.